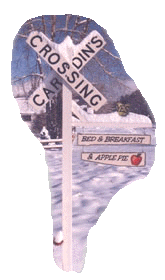 RATES:
Summer (mid May through mid October) - $95.00/2 plus tax $20.00 each additional guest
Winter: $75.00/2 plus tax
No pets please, we already have some. Children over 10 welcome.
Payment accepted by check, cash or credit card.
Guests may check-in after 2 PM and check-out by noon.
CANCELLATION POLICY: Seven day notification required
---
For Reservations Please call 1 (800) 852-6400
or Email: Hostess@CardinsCrossing.com
---
DIRECTIONS:
Cardin's Crossing B&B is in the center of Old Town Chama just one block west of Terrace Ave. (Hwy. 17). Turn west (toward post office) at 5th St. go one block and turn left on Maple Ave. We're in the middle of the block at:
551 Maple Ave.
Chama NM 87520